DELIVERY SYSTEM REFORM INCENTIVE PAYMENT PROGRAM (DSRIP)
We successfully led the implementation of the very complex DSRIP Program. The program improved the design and delivery of healthcare for the Medicaid population by reducing avoidable hospitalization and improving population health, while lowering the cost of healthcare.
Innovation Fund, CBO VBP Readiness Program, and

Medicaid Accelerated

eXchange

Programs
The FLPPS partnership is a diverse network of hundreds of Partner organizations across many provider types and an expansive geography. Prior to DSRIP, most partner organizations operated in their own silo and did not have the tools or processes to enable an integrated network approach to care delivery.
We organized Partners into geographical regions refer to as Naturally Occurring Care Networks or NOCNs and developed a process for these individual agencies to come together and begin to understand the value of an integrated delivery system for patients in their region.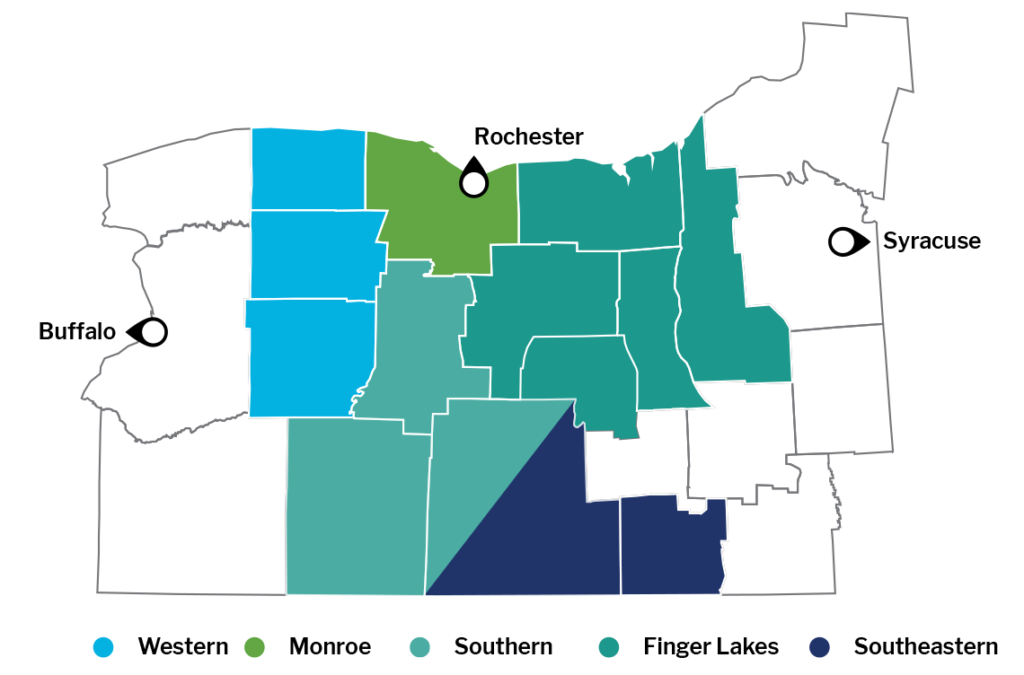 The Partners in each of the NOCNs are stronger together because of our support in developing high-performing networks.
In 2019, we supported the NOCNs in performing a root cause analysis to identify the cause of poorly performing outcomes and supported the implementation of projects to address needs in those areas. The NOCNs developed solutions and identified high-impact data driven interventions to address underperforming clinical outcomes specific to each NOCN region.
Value Based Payment Program
This program engaged twelve high impact community based organizations who provide food, clothing, emergency housing, and homeless prevention services. Six of these agencies were in the City of Rochester and six were in the FLPPS rural counties. All of the organizations served more than 2,500 individuals per year.  We co-developed this program with the United Way and also utilized organizational development consultants to work with partners one on one. We provided educational workshops and leveraged our expertise in facilitation, system transformation, and value-driven solutions to support Partners in the development of their value proposition statements.  
Medicaid Accelerated Exchange Program
The Medicaid Accelerated eXchange (MAX) Program redesigned the way healthcare is delivered to a specific patient population by utilizing a rapid cycle continuous improvement methodology. The key objective of the MAX program was to support an interdisciplinary team to accelerate their ability to achieve sustainable reductions in hospital admission and emergency department use.
The MAX program supported the goal of transforming healthcare by strengthening care collaborations and getting patients the right care at the right time. By understanding the drivers of high utilization, patients are directed to appropriate community providers and resources while promoting the more efficient use of hospitals for emergent and acute level services.
We facilitated and led four action teams over two years partnering with Arnot Ogden Medical Center, St. Joseph's Behavioral Health Science Unit, Geneva General Hospital, and Noyes Hospital.
We also facilitated a mini-MAX series with Jones Hospital in 2018 which established a structure for the hospital and community-based organizations to coordinate care and address social determinants of health for identified high utilizers.
The results were impressive:
Arnot Ogden Medical Center
58% reduction
in inpatient utilization
September 2017 – February 2018
St. Joseph's Behavioral Health Science Unit
86% reduction
in inpatient utilization
November 2017 – March 2018
75% reduction
in inpatient utilization
July 2018 – February 2019
89% reduction
in inpatient utilization
"I am excited to see 'equity in action' through this partnership with FLPPS, who recognizes the importance of lived experience and elevating the parent and patient voice to bring change across our health and behavioral health systems."
"For decades Regional Health Reach has been a leader in the community in providing healthcare and support services to those experiencing homelessness. Through our traditional clinic, mobile medical unit, and presence at shelters, our Healthcare for the Homeless program has touched thousands of lives. Health Reach is excited to partner with Finger Lakes Performing Provider System and MC Collaborative to expand our reach to unsheltered individuals, meeting them where they are, to provide the care they need."
"For decades Regional Health Reach has been a leader in the community in providing healthcare and support services to those experiencing homelessness. Through our traditional clinic, mobile medical unit, and presence at shelters, our Healthcare for the Homeless program has touched thousands of lives. Health Reach is excited to partner with Finger Lakes Performing Provider System and MC Collaborative to expand our reach to unsheltered individuals, meeting them where they are, to provide the care they need."
"The Finger Lakes IPA, a partnership of the region's community health centers, six behavioral health organizations, and the S2AY Rural Health Network, is very excited to be a part of this important initiative by FLPPS to support the critical need for access to developmental screenings for young children in our rural communities. This program will give us the ability to provide access to services that are often not available due to geographic and other barriers to care experienced by our patients."
"The key to the success of this menu of services is our ability to have a two-way dialogue with doctors and other medical professionals about both health and social support needs at home. We've proven this model can improve patient outcomes and reduce unnecessary ED visits and hospitalizations, and that's a win for everyone. It also reduces both physician and patient/family caregiver frustrations."
"By expanding our Person In Crisis teams to include certified peer specialists, we will be able to assist even more of our residents in need in a humane and compassionate manner. In addition, by assisting residents in this new way, we are expecting that there will be a reduced number of people calling the PIC team because they are getting connected to the services they need."